Discover the Intrigue of a Murder Mystery Weekend in Estes Park, Colorado
Solve the Mystery of a Rocky Mountain Whodunit
*** We are currently not hosting murder mystery weekends. Check our blog for COVID updates.
Join our Murder Mystery Weekend at the Romantic RiverSong Inn and immerse yourself in a web of suspenseful intrigue as you solve the latest shocking crime. You'll be transported to another time and place, becoming part of the story for a weekend of fun and detective work at our stunning Estes Park property.
In contrast to the drama of the weekend, you'll also experience the serene setting of our bed and breakfast with its riverside trails, forest wildlife, and charming one-of-a-kind rooms. Your daylight hours are up to you, but when night falls, the game is afoot. Think you can uncover the guilty party? Book your Murder Mystery Weekend today and put your detective skills to the test.
Experience the Thrill of a Cloak-and-Dagger Drama
At our Murder Mystery Weekend in Estes Park, Colorado, you'll be part of an immersive experience full of clues, fun, and deductive reasoning.
Become a character in the story and discover who is guilty
Have a chance to win a prize before the end of the night
Spend your days relaxing on our property, exploring Estes Park, or hiking in Rocky Mountain National Park
Enjoy mouthwatering heavy appetizers on Friday night and dinner on Saturday night, in addition to our B&B's daily breakfasts
What to Know:
No experience necessary. Simply follow the instructions on the cards as the evening's mystery unfolds.
Wear or bring an object to identify yourself, such as a camera for a photographer or a graduation cap for a professor
Our Murder Mystery Weekends are about relaxing and having fun. You'll never be put on the spot or expected to perform.
A Typical Murder Mystery Weekend Schedule
Get your fill of both mystery and mountain tranquility with a weekend at the Romantic RiverSong Inn. With a blend of planned activities and plenty of time for your own adventures, you'll experience the escape of an Estes Park getaway with the excitement of a true-crime thriller.
Friday: 3 – 6 PM: Check-in
Friday: Appear in character for appetizers and drinks as the mystery begins.
Saturday Morning: Enjoy the Inn's hearty, delicious breakfast in the dining room.
Saturday Afternoon: Explore the property, go for a hike, or relax in your room with a massage—the time is yours.
Saturday 7 PM: Appear in character for dinner and drinks as the suspense continues and clues are unraveled.
Sunday Morning: Enjoy the Inn's hearty, delicious breakfast in the dining room.
Sunday 12 noon: Check-out.
Mountain Mystery Meets Riverside Charm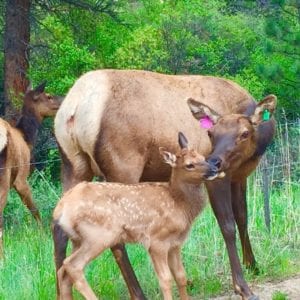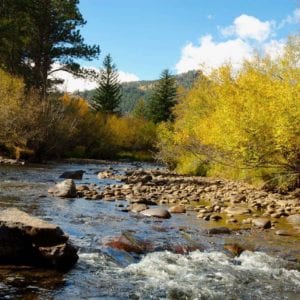 There's more than just intrigue to be had at our Estes Park bed and breakfast. Browse our gallery to see the idyllic views and cozy quarters you'll enjoy at the Romantic RiverSong Inn.
Enjoy All That Our Riverside B&B Has to Offer
Whether you opt for one of our B&B packages or create your own unique experience, you'll be able to take advantage of the abundant charm at the Romantic RiverSong Inn and our focus on enjoying a vibrant life with options to nourish, relax, and indulge.
Experience the Romance of Our Bed and Breakfast in Estes Park, Colorado
Situated only 75 miles from central Denver, the Romantic RiverSong Inn in Estes Park is a prime destination for guests from throughout Colorado and around the world. Our bed and breakfast is accessible year-round via Lower Broadview Rd, which offers riverside views along its winding curves all the way to the privacy of our wooded property.
For more information about our property, visit our About page.
Murder Mystery Weekends and More in Estes Park, Colorado
From a weekend of suspense to a simple escape into the grandeur of the Rockies, the Romantic RiverSong Inn is perfect for special occasions and weekend getaways alike. Explore our various offerings and contact us to book your Estes Park adventure today.
Weddings and Elopements – Our venue accommodates weddings of up to 18 guests for an intimate streamside experience in all the wooded beauty of our Estes Park property. Browse our Wedding and Elopements packages and learn more about making Romantic RiverSong Inn the site of your special day.
Activities – With a wealth of options ranging from the serenity of an outdoor massage to the intrigue of our Murder Mystery Weekends, our B&B is the ideal destination for anyone looking to enjoy an escape to the tranquil scenery of the Rocky Mountains. Learn about all of our Activities and plan your itinerary today.
Rooms – Our ten rooms each have their own unique ambiance while remaining true to the cozy charm that characterizes our entire inn. From our Shooting Star Suite to the lofty Meadow Bright Room, discover the spaces that keep couples returning year after year and book your own stay in one of our Rooms today.
Escape to Romantic RiverSong Inn for a One-of-a-Kind Getaway
When you join a Murder Mystery Weekend at the Romantic RiverSong Inn, you'll enjoy a mountain escape with all the relaxing and invigorating activities our area has to offer, in addition to the thrilling intrigue of a classic crime thriller. Contact us now to book your weekend. We look forward to having you join us!